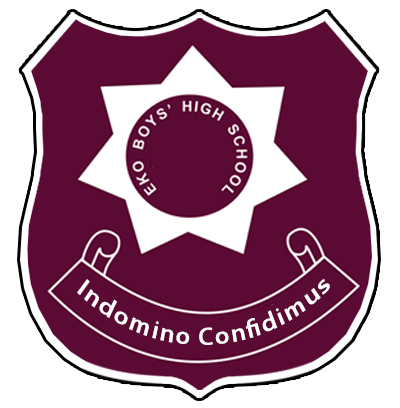 The ICON: REV. WILLIAMS BENJAMIN EUBA & The Making Of Eko Boys' High School
By Joseph Njoh
By the time he passed away peacefully in his sleep on November 29, 1933; in his farm at Agbado Station, at the age of 76, only a few people in our country had heard of Rev, William Benjamin Euba, fewer had met him' fewer still knew his achievements and what he stood for As I write these words today, that noteworthy name remains strange to most of the present generation of Nigerians and means very little to most of those who by chance have heard it. Even in the city he served tirelessly for years, apart from what he created, there is today hardly any public manifestation – sign or symbol – of recognition of this illustrious son of our country or of remembrance of his splendid successes This is an egregious oversight because, in terms of his spectacular accomplishments, the impact of those accomplishments on contemporary Nigerian history and way of life and the crucial timing of those accomplishments, Rev William Benjamin Euba has few equals in the history-of Nigeria in the first half of the 20 century. He was a giant in his day, a real patriot, a brilliant and kind educator, a true visionary who was far ahead of his time, an embodiment of a true Christian who practiced what he preached and a man who stood firm for the dignity of black people on these shores at a time when only a few people were in a position to do so and fewer people had the courage to do It.
Rev. Euba's humble beginning did not foretell what manner of man he would later become His parents, William and Nancy Euba were members of the Methodist church, and were probably of the Creole stock who, like many other people of such background, left Freetown, Sierra Leone, in the late 19th century and traced their roots to Yorubaland (Egbaland in this case) where they originally came from. As far as we know, they were a simple unassuming couple who, like many returnees, chose to settle in Lagos. Bom in Lagos on the 23rd of August 1857. Rev. Euba began his early education at Olowogbowo Wesleyan School, Lagos. The time Euba finished his elementary education coincided with the period when the Methodist Church in Nigeria began embarking vigorously on the training of Africans for leadership roles in the Methodist mission in the hope that ultimately Africans would run the Methodist institutions in
Nigeria for the benefit of their own people. At the time, there was no Wesleyan high school in Lagos and the few Methodist pupils that had been sent to the English Church Missionary Society (C.M.S.) Grammar School, Lagos, had, by the end of their training, "imperceptibly imbibed prejudices against that church to which their parents have had the honour and privilege to be connected." While the plan for a Wesleyan high school for Lagos was being prepared, it was decided in the interim to send suitable candidates to Wesleyan high schools abroad. Therefore, for his secondary education, Euba was sent to Freetown, Sierra Leone, which then had more secondary schools than Lagos where the C.M.S. Grammar School (Nigeria's first secondary school) was the only secondary school then in existence. In Freetown, Euba was "educated at missionary expense" at the Wesleyan (now Methodist) Boys' High School. (MercyA.Oduyoye, Leadership Development In The Methodist Church Nigeria, 18421962, page 20, published by Sefer Books Ltd, Ibadan, Nigeria, 1992).
Euba's academic performance in Freetown was impressive and promising. He returned to Lagos in 1878 after his graduation from the high school in Freetown and accepted an appointment to teach at the new Wesleyan (Methodist) Boys' High School (WBHS), on Broad Street, Lagos, which opened its doors to the first batch of students a few weeks earlier in March 1878. The school thus became Nigeria's second 'secondary school. Its first Principal was Rev W. Terry Choppin. Apart from the Principal and Euba, the school's only other teacher was Mr. J. H. Samuel. Euba taught at that school until 1881 when he left for further education "at native expense" at King's College, Taunton, England (Mercy A. Oduyoye, Leadership Development In The Methodist Church Nigeria, 1842 1962, page 20, published by Sefer Books Ltd, Ibadan, Nigeria, 1992). After the completion of his studies, he returned to Lagos and rejoined the teaching staff of the WBHS. As a demonstration of its earnestness in leadership development in the Methodist mission in Nigeria, 'by 1886, Euba was Vice-Principal in the school and in 1888 the Wesleyan Methodist Missionary Society elevated E:uba to the position of Principal of the school, thus becoming t he first African to hold the position (Mercy A. Oduyoye, Leadership Development…page 11, published by Sefer Books Ltd, Ibadan, Nigeria, 1992. See Adelola. African Pioneers of Modern Medicine, page 159, University Press Limited, Ibadan, Nigeria, 1985).
Euba's long tenure as Principal was initially uneventful. He related well to staff and students and had good rapport with both; He worked very hard as principal. The year he became Principal, "the school won all the six prizes given at the colonial exhibition" "This, Euba said, "opened the eyes of the people to the fact that we are not idle." His Majesty's inspector of school in 1889 made this observation, "There is very distinct evidence of hard and painstaking work" (Mercy A. Oduyoye, Leadership Development… pages 57 & 58, published by Sefer Books Ltd, Ibadan, Nigeria, 1992. See above). Unfortunately, after some years, he began to experience what other Western-educated Africans of that period complained frequently about racial prejudice at the hands of whites in the Methodist-owned school and the Methodist Mission. He was subjected to undeserved sustained severe criticisms. Derogatory remarks were made about his performance and some of his best efforts at improving the school were disparaged. He became a victim of blackmail and false statements were made maliciously about him in order to tarnish his reputation. Matters came to a head in 1912. Following a conflict with one of the senior officials of the Methodist Mission and realizing that he could no longer perform his duties properly within the mission, he decided to resign. In a letter dated 15th October 1912 and addressed to Rev. Perkins, Secretary of the Wesleyan Mission Society (WMS) in London, England, he explained the reason for his decision and wished his resignation to be effective from December 12,1912, The entire letter now follows:
My Dear Sir,
I have after careful consideration and thought come to the conclusion to sever my connection from at the end of the present year with the Ministry of the Wesleyan Mission Society, the church of my birth, after a service extending for a period of 40 years.
I do not resign, its ministry on the ground of disagreement with its directives, nor even on the ground of its method of church government, but I find that under the present administration, I can no longer continue in a service which I had intended to be a life-long one.
The present Chairman, the Rev. O.J. Griffin, the representative of the WMS enjoys unbounded confidence of the Committee to an extent which makes it impossible to hope for justice, righteousness and equity. And consequently, the only course open is either to bend to his will and caprices or to retire from the work. The latter course I have chosen as congenial to my nature and at less so to my training, age and experience rather than to stifle my conscience to smart under wrongs, to repress my feelings for the sake of avoiding an open rupture. I have ceased to have confidence in the head of Administration (a colonial white-man) who though strict to call attention to rules of ministerial conduct and propriety, read every year, has himself singularly fa/led to practice them in dealing with the native brethren, I have ceased to respect him, who is accustomed to discuss the character of his colleagues and brethren with laymen and that not for the _ purpose of enhancing the dignity of their profession, I have ceased to admire a policy which savours as much of vindictiveness and malice, qualities which are highly reprehensible in a gentleman and much more so in a Christian minister whose conduct ought to be exemplary and whose official position should sustain him from suspicion of ill-wind (National Archives, Ibadan File UMS) (Anatomy of conspiracy- an excerpt of Michael Omolewa's address to the Ibadan chapter of the Olivet Baptist High School, Oyo Old Students' Association, in page 4, Nigerian Tribune, 31 October 1990.)
Rev. Euba's troubles were not yet over because his detractors levelled new charges against him. "In a letter by Rev. Webster of 7 February 1913, Rev. Euba was told that a charge had been preferred against him by the chairman of the district, namely, that: ""sums of money paid through official bills of the Boys' High School were not entered into the school accounts, and that a serious discrepancy exists between bills issued and the counterfoils remaining in the book, the counterfoils in almost every instance being for a smaller sum than the original." His resignation was not immediately accepted. Rather, Rev. Euba was requested to give a full explanation for the financial malpractice that he was accused of. He thereafter wrote to explain that he had been framed up by those who were willing to discredit him and to ruin his over forty years record and career" (Anatomy of conspiracy an excerpt of Michael Omolewa's address…page 4, Nigerian Tribune, 31 October 1990. See above).
The Methodist Mission set up a Committee of enquiry to which Rev. Euba was invited. Euba honored the invitation, ably defended himself and cleared his name, "On 17 February 1913, the Secretary to the Missionary Society wrote to Rev. Euba, exonerating him from all charges leveled against him. He informed Rev. Euba that the following statements had been entered into the register of the society:
"There is therefore no charge or implication made against this "brother" in keeping with the findings of the Committee to which Rev Euba had been invited" (Anatomy of conspiracy an excerpt of Michael Omolewa's address … page 4, Nigerian Tribune, 31 October 1990. See above). The Secretary then communicated the outcome of the investigation to the Mission's headquarters and requested that Rev. Euba's resignation be accepted.
This hurtful and sad experience was not unique to Rev. Euba. It was a time that in both the colonial government service and in the Christian missions, discriminatory policies were the rule. Throughout the second half of the 19th century and the early years of the 20th century; when the obnoxious trans-Atlantic slave trade and slavery in Western societies had just officially ended, a few educated and/or progressive black Africans began to emerge and to assert themselves. They began to try to take their place under the sun in their own countries. Sadly, they were frequently put down, discouraged, and discriminated against by whites in general, particularly by those whites from West European countries (Britain, France, Portugal, Belgium, Spain and Germany) that were the predatory and menacing colonial powers of that era. The prevailing feeling among these whites was to confine the ambitious, successful and confident blacks to their place in obscurity and darkness or, at best, to offer them positions of inferior status to those occupied by whites, regardless of the blacks' level of Western education or professional training. Such accomplished Africans who sought to stand up shoulder to shoulder with the whites were few and far between. They were usually defenseless and very vulnerable. Using the enormous powers of the colonial government or their connections in the Christian missions, the whites often left the Africans diffident, demoralized, frustrated, and heartbroken. Out of desperation, many of the Africans resigned their appointments in government or in the missions and left to begin their private business or to establish private practice.
A few examples here would illustrate this point. In the middle of the century, the C.M.S. decided to open the Yoruba Mission of the C.M.S. at Abeokuta. The Mission, once established, came under Henry Townsend, a young English C.M.S. missionary. In 1853, one young and brilliant Sierra Leonean, Thomas Babington Macathy, arrived in Abeokuta from Freetown in the company of a Briton, Mr. Paley. Their assignment was to open a training institution for the C.M.S. in Abeokuta. Sadly, Mr. Paley died a few months after his arrival and Mr. Macaulay became the head of the institution. However, Townsend, who did not want to see a black man occupy a prominent position in the area covered by the Yoruba Mission, summarily removed him. Macaulay was then sent to work temporarily as pastor of the Owu Church in Abeokuta but there again Townsend removed him because he claimed that Macaulay was not the right man for the job. When Macaulay tried to found a Grammar School in Abeokuta, Townsend fought against it because such education made Africans become "arrogant and despise manual work' Instead, Macaulay was transferred to the little missionary station in Ibadan. But those at that station felt that Macaulay's education and experience were not being adequately utilized and they suggested that he be transferred to Lagos to open a Grammar School. The C.M.S. later accepted this suggestion. With money Rev. Macaulay raised from donations by merchants and other residents of Lagos, the Lagos C.M.S. Grammar School opened its doors 10 students in 1859 and Rev. Thomas B Macaulay became the first Principal (Ade-Ajayi, J. F. A Patriot To The Core Bishop Ajayi Crowther, paqe S3, Spectrum Books Limited. Ibadan, Nigeria, 2Wi.,
Samuel Crowther and Henry Townsend, both ordained Ministers, participated in the establishment of the Yoruba Mission In 1845, but they were given separate conditions sufficient space around it for future expansion. This, it was hoped, would put an end to the perennial problem of inadequate space for students. In addition, the Board decided to recruit suitable candidates, train them in higher institutions and then employ them as staff in the school in order to have a more stable teaching staff. Land in Lagos Island and the adjacent Mainland proved too expensive. To his eternal credit, the school's Principal and the first Chairman of the Board of Trustees, Obadiah E. Roberts, graciously made an offer that reflected his deep commitment and selfless devotion to the school. His personal landed property at Masewele, Mushin was offered to the school and the offer was immediately accepted. The area declared by Ikeja Town Planning Authority as Eko Boys' High School "School Zone" was 8 acres. 1.3 acres represented the gift from Obadiah E. Roberts and the Board of Trustees negotiated with different plot owners to acquire the rest. A building plan was drawn up in "E" shape representing the first letter of the name of the school's founder, E-U-B-A (Euba). After 34 years of meritorious service to the school, the last 17 years of which were spent as Principal, in January 1948, Mr. Roberts retired. On May 7, 1948, Rev. J. Lucas, the then Archdeacon of Lagos, performed a brief religious ceremony at the new site in Mushin in the presence of stakeholders and well-wishers of the school. Six months later (November 1948), the foundation stone was laid at the very site where the school has since been located pending its relocation to Abijo, Lagos Island.
On January 16,1950, the new building of Eko Boys' High School, Mushin, opened with 300 students on the roll. At last, the school stood firmly on its own ground. The days of worrying over the expiration of leases and of inadequate space for students, difficulties that had threatened the existence of the school right from its inception, were over. Thanks to the school's second Principal and benefactor, Obadiah Edward Roberts.
Over the years, more buildings have been added to the initial ones to provide more classrooms for students, to provide offices and accommodation for staff, to accommodate the library, the science laboratory, an assembly hall and a large recreation area. "Great oaks from little acorns grow." Today, Eko Boys' High School is a prestigious institution with a large student population of over 2000 and a large teaching and administrative staff. Over the last 10 decades of its existence, thousands of students have passed through its doors and some of them have gone on to become some of our country's finest lawyers, judges, clergy, doctors, pharmacists, military officers, scientists, teachers and professors, engineers, civil servants, farmers, traditional Chiefs and Obas, businessmen, administrators etc. The school continues to contribute to the growth and development of our country and all this has happened due to the vision, the decision and action of one great man who at a time that he and people of his race were disdained, discriminated against and persecuted, saw an opportunity to prove his detractors wrong: to change the minds of those who were contemptuous of the African and to positively touch the lives of many people by bequeathing to succeeding generations a lasting and magnificent legacy. This is a very important point and a serious lesson to others because oftentimes, we as individuals believe that, in the face of crushing adversity or immense national calamity, there is nothing one man can do to change the course of history, to strengthen the weak, to give hope to those in despair or to lift the veil of ignorance from the faces of those blinded by it. Rev. Euba has demonstrated what one resolute man can do.
The story of his life is the stuff of legends. It is a story of the triumph of the indomitable human spirit over horrendous challenges and overwhelming odds, over severe limitations of environment and background. His life was and has remained a brilliant example of Christian living and his achievements should be a tremendous source of inspiration to this generation and to those yet unborn.
Today, we live in a society that is different in more ways than one from that in which Rev. Euba lived and laboured. Our country is politically independent now and has been for over five decades. Our people no longer stoop, like spineless slaves, before arrogant and conceited white "lords." We are no longer treated with disdain within our country's borders and we no longer groan under colonial oppression. Sadly, today, we are in a cynical age in our country. We are apt to bestow national, traditional or institutional honours on impostors, charlatans, sycophants, those who acquire stupendous wealth overnight mysteriously, dishonest and deceitful politicians, lazy and self-serving bureaucrats and those who behave in public office as if they were elected or appointed to empty the national treasury. Some of our prominent streets bear the names of highly manipulative, diabolical and ruthless leaders who, while in office, implemented odious decisions that caused misery in the lives of millions of our hapless and impoverished compatriots. These are discredited names that evoke ugly memories in a traumatized people, names that are best consigned to the garbage of history and left to rot. Less prominent streets carry the names of those who are not known to ha ve made any tangible contribution of any kind to our country's development. Examples abound all around us. Meanwhile, our real heroes, men and women to whom we are heavily indebted for our nation's progress and well-being, pass away unsung.
Rev. William Benjamin Euba, when you left our imperfect world many years ago, you went to join the burgeoning population of our unsung heroes. There, I am sure, you are in good company. Though you undoubtedly deserve it, you really do not need any monument erected in your honour or a street named after you to be remembered! Right here on earth, you live in the hearts of tens of thousands, if not more, of your countrymen and women. To live in the hearts of people is to live eternally. Thousands of appreciative Ekorians at home and abroad pray your spirit watch over us and be with us, your grateful' children, who hold you in highest esteem, and with renewed dedication to the ideals for which our school was founded hundred years- ago. May the flame of knowledge you lit many years ago never die. Amen.
Acknowledgement: The help of Deacon'Femi Roberts, an Ekorian and a grandson of Late Obadiah Edward Roberts, in providing some of the information used in this article is gratefully acknowledged.